"We wouldn't go back to that other life for anything….
The freedom we have is simply amazing. And while we still deal with everyday life, there is serenity all around us. It's a slower pace, a simpler life, and we are much more deeply connected and happy."
— Howard Payne, Full-Time RVer and RV Freedom Now Story Contributor
If you are dreaming of a Full-Time RV Life
It's time to stop dreaming and take action!
Discover the 10 Steps You Need
to Live the Ultimate RV Lifestyle
from Real-World People Already Doing It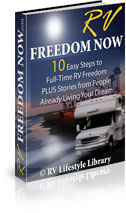 Choose Freedom and  You Can Live Your Dream NOW…
Do you dream of waking up with a new backyard every day of the week? One you don't have to mow, rake or otherwise maintain?
Imagine as you sip a steaming coffee with your loved one  watching the deer roam through your campsite.  Sharing stories with new friends  as you  watch the sun set over the desert , Pacific Ocean and the Alaskan wilderness.
Do you you have doubts, fears and a countless list of details stopping you.  If so,  this is  the most important letter you ever read!
Stop the sleepless nights and endless lists and wondering how you'll pull off your full-time RV lifestyle?
Here is the information you need so you can decide weather  full-time rv living is for you. Maybe you can  leave your fear behind and therefore start living your dream today.
Save hours of research  and mind -bending soul-searching and endless sifting through boring details to get the real goods because now you have the answers.
Trusted  information so you can make the right choices and avoid costly mistakes.  Good information is  powerful so that you can  make changes in your life.
Read the testimonies in  this book from people already living your dream.  
Dream your  life of adventure,  and fantasize about quiet mornings enjoying your coffee in new surroundings. 
So Imagine How These Powerful Secrets Will Help You
Take the Leap into the New Life you are Dreaming of! 
How do I stay in  touch with friends and family while on the road, and how do I stay accessible and cut down communication costs
Innovative ways to discover the pros and cons of selling your house so you can stop worrying and make the right decision
How, and where, to get Internet connections when you are on the road (inexpensively or even free)
 what is the fool-proof way to know how much money I need for the Life style I want. 
Tips to effortlessly navigate the maze of storage decisions 
The critical ABC's of deciding which RV is absolutely perfect for you and your new lifestyle
16 proven ways to navigate the confusing array of communication opportunities and figure out which one is the most effective for you (without breaking the bank)
These are just a few of the example of what information the rv freedom book will provide you.
Finally you will find peace to make your decision and have information  to guide you all the way, because this book has all the answers.
CLICK HERE FOR MORE DETAILS!!!